Why You Should Choose GIA Home Care Services LLC!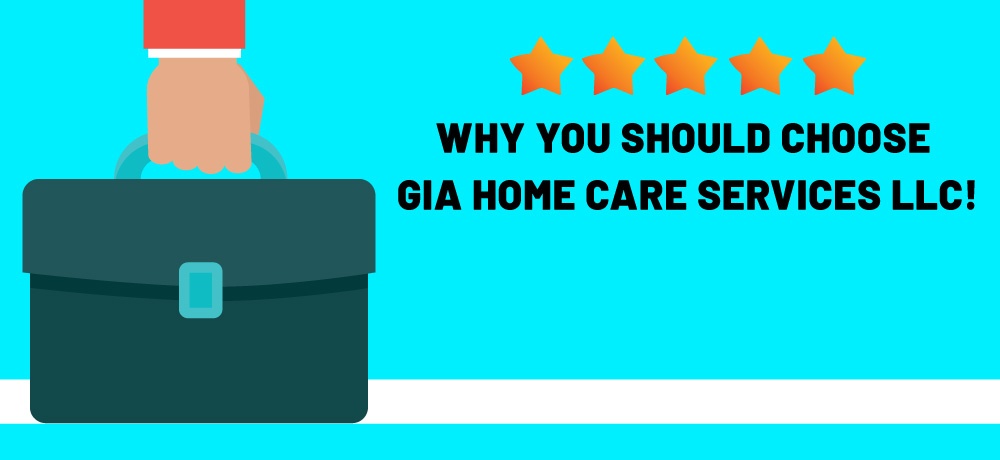 By opting to work with a qualified, compassionate, and attentive caregiver to look after your family member, you will make life more comfortable for you as well as your loved one. To ensure that they tend to your family member in the most suitable manner, you will need someone who is sincere, responsible, and committed.
However, to find a home care agency that meets your expectations, you will have to put in a sufficient amount of research. You also need to go through reviews you find online and speak to people who've worked with them.
At GIA Home Care Services LLC, we are confident about the services we provide and will not shy away from giving you references. Besides, we will be happy to tell you why we are the top name in home care.
We have been in the field for the past several years and have numerous happy clients who will testify to our diligent services. If you're looking for a home care agency, here are a few reasons why we believe you should pick us over the rest of our competition.
We pride ourselves on providing the best care for your loved one at home
We ensure that we tend to your family member in an attentive, discerning, and responsible manner.
We care
We genuinely care about our clients and look after them as though they are our own family members. Your loved one will be comfortable and safe with us.
Your satisfaction is guaranteed
Our clients are our top priority, and we go that extra mile to keep our clients in the pink of health.
We are always there when you need us
We offer different types of healthcare, including group adult foster care, private duty, skilled nursing services, live-in services, and our flexibility enables us to schedule appointments according to our clients' needs.
We are the home care agency of choice
As our health care providers are easily accessible, community-centered, and culturally relative, we have retained a majority of our clients by offering excellent and unparalleled services.
As a leading home care agency in Worcester, MA, we ensure that we exceed expectations and always put you first by looking after your loved ones as though they are our own. We are committed to our work, and we provide compassionate and tailored home care services as per your needs and ethical and cultural practices.
We work very closely with our clients and their families and help them stay longer in their homes while enjoying a sense of independence and comfort. Our services are available across Worcester, Boston, Springfield, Leominster, Fitchburg, Lowell, Fall River, New Bedford, Auburn, Webster, Sturbridge, Brockton, Taunton, and Lawrence, MA.
To learn more about the services we offer at GIA Home Care Services LLC, please click here. If you have any questions about how we can help you, get in touch with us by clicking here.
---
---